A cookbook with over 350 recipes.
A cookbook created with you in mind……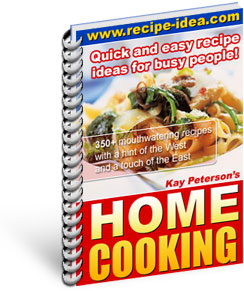 At last, a cookbook that will have your friends raving and your kids asking for seconds!
Do you find yourself ordering pizza delivery or fast food too often? Are you at a loss when it comes to knowing what to have for dinner? Then relax, Because you have just found...
The Home Cooking Ebook
Hi, my name is Kay Peterson, owner of Recipe-Idea.com and creator of this book on cooking.
Wouldn't you like to know exactly what you are having for dinner each evening? How to prepare it in a fast and easy way to enable you more time to just relax in the evenings?
Here is a startling fact about cooking: It does not have to be difficult!
My own mother used to shoo me out of the kitchen when she was preparing something. She said I was too noisy, boistrous and in the way.
Therefore, when I married and started my family, the kitchen was a dreaded place.
Imagine my delight when I discovered my grandmothers recipe box!
I can remember how she used to get up early, at 4am. She threw wood in the stove and started the big meal of the day (breakfast!). By the time grandpa and my uncles came stomping up on the porch, the table was laden with biscuits, ham, gravy, potatoes, and all kinds of steamed vegetables from her garden.
More than half of the recipes in this cookbook are from her recipe box. Deeelicious!
Every recipe has step by step techniques.
They are smart and simple to prepare.
The ingredients are easily found. Even for the recipes with an Asian flair.
Is this you?....It used to be me.
you come home tired from work at 530pm or 6pm
you drop your purse or briefcase in a chair
you start dinner at 6pm or 630pm
after about an hour dinner is ready
by the time you finish eating and get the kitchen cleaned up, you are ready for bed!
How would you like to shave an hour or two off the time you spent in the kitchen! Many of these recipes are better prepared ahead of time. Just imagine spending that time with family and relaxing!
Enjoy the cookbook, my friend. It was my pleasure creating it for you!
Kay Peterson


Preview cookbook table of contents here.
---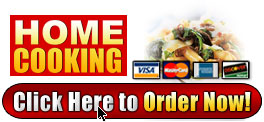 P.S. It doesn't matter if you are an accomplished cook or just a beginner, there is something for everyone.

• At a mere $8.50, this book also makes a great gift.
• There is a 100% thirty day money back guarantee
This ebook is downloaded in PDF format. It is small (589kb) so it downloads instantly. You will need Adobe Reader to view it.
Thank you and Enjoy!