Valentine day is February 14th.
Valentine Day has a mysterious origin, adding to its appeal.
The most popular belief is that St. Valentine, a Catholic priest during the reign of Emperor Claudius AD 260, defied the law, was thrown in jail, and subsequently beheaded.
The Emperor decided that young men made better soldiers without the burden of wife and family. He forbid marriage. St. Valentine felt this was an unjust law and secretly married couples.
During his time in prison, he befriended the jailors daughter. As he was led off to execution, he left a note to her signed "from your Valentine".
St. Valentine is considered the patron of lovers and especially of those unhappily in love.
---
Sugar cookie recipe at the bottom of this page. The kids will just love to make them into hearts with red sprinkles!
---
Feb. 15 was considered the first day of spring. Festivals and fertility rites were performed. This festival was dedicated to the Roman god Lupercus.
The feast day ( Lupercalia) became a lovers' festival in the 14th century, On Lupercalia, a young man would draw the name of a young woman in a lottery and would then keep the woman as a sexual companion for the year.
Pope Gelasius I changed the lottery around 470 AD. Both young men and women drew the names of saints and acted like those saints for a year. The young men must have been a little ticked at the change.
For Roman men, the day continued to be an occasion to seek the affections of women, and it became a tradition to give out handwritten messages of admiration that included Valentine's name.
Pope Gelasius declared February 14 St. Valentine's Day around 498 A.D
Today it is marked by the exchange of romantic cards (valentines), flowers, and other gifts.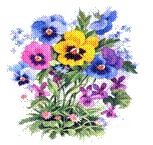 ---
---
Here are some sugar cookies that are very easy to decorate with heart cutters and red sprinkles…. .
mix
1 ½ C shortening
2 C. sugar
4 eggs
1 tsp. vanilla

until creamed together.
sift and add
5 C flour
2 tsp. baking powder
2 tsp. salt

mix well.
Chill dough for a while, at least an hour. It makes the dough easier to work with.
Roll out the dough on a lightly floured board and cut with cookie cutters.
Bake at 400 degrees for 7 - 8 minutes.
Life is just one fool thing after another; love is just two fool things after each other. Author Unknown

Valentine to Home