Picnic time means having good food and good people around you
Picnic foods to make ahead and take along on your next outing.


Cornbread is a favorite food for an outing. It is easy to make ahead and easy to carry. Try this

Jalapeno Cheddar Cornbread

the next time you have a picnic.

2 C Bisquick
2 C cornmeal
4 T sugar
1 tsp salt
2 C milk
1/2 C vegetable oil
4 eggs
2 C cheddar cheese, shredded
1 C jalapeno, pickled and chopped

Grease two 8x8 pans. Preheat oven to 400F.
Mix sugar and salt together with Bisquick and cornmeal.
In another bowl, combine the milk, oil, eggs, cheese and jalapeno.
Add the wet ingredients to the dry. Blend just until combined.
Pour the cornbread into the pans and spread until even.
Reduce the heat to 350F and bake in the center of the oven for about 20 minutes.
Poke a toothpick in the center to test for doneness. If the toothpick comes out clean and the center is firm,
remove from the oven. Serve this bread hot or cold.




Try a summer fruit salad as a side dish or dessert. Use fruits like grapes, cantaloupe, strawberries and apples. Add a squeeze of lemon juice to preserve color.


A bowl of cooked pasta tossed with tomatoes, red onion, cilantro, chopped peppers and whole kernel corn makes a perfect summer salad. Just add Italian dressing when you are ready to serve.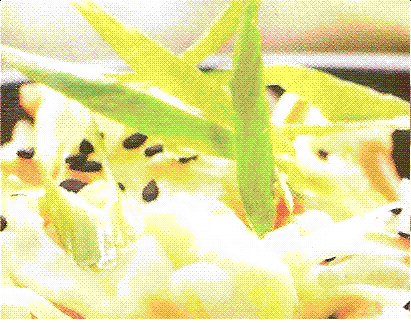 Here is another favorite for the beach or camping:

Pineapple Cole Slaw


This recipe serves about 10 people:
3 lb head cabbage, shredded
2 C carrots, shredded
3 oz green onion, sliced
3 lb pineapple, crushed and drained well

Combine and place in sealable plastic bag.

Dressing
6 oz cider vinegar
2 1/4 oz honey
1 1/2 C mayonnaise
1 1/2 T salt
3 tsp pepper

Mix together to make the dressing. Put in a tightly closed container or jar. Refrigerate. Stick into the ice when you are ready to go.

This is easy to mix together at the picnic. Do it about an hour before serving and keep the bowl of coleslaw chilled in the cooler.
Picnic Cooler Tips


Headed for a picnic? Weekend BBQ? Hanging out at camp or by the water somewhere?


Here are some tips to keep your food safe and chilled during your next outing.

Pick a cooler that is the right size. The fuller the cooler, the longer food will stay cold.

Pack ice or freezer packs in re-sealable plastic bags to keep ice from melting on the food.

Use a separate cooler for refreshment ice. You'll be in and out of that cooler a lot more often.

Make sure all raw meats are sealed tightly. Can't have them bleeding all over the place.

Pack the cooler last. Refrigerate cold foods up until the last minute. Just make sure you don't forget them!

Put the food you plan to cook first on top. That will keep the rest of the food in the cooler cold.

Put your cooler in the shade. The ice will keep longer.
When you plan your next picnic, try some BBQ