Lasagna with vegetables can easily be converted for meat lovers.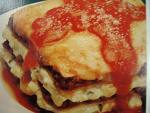 This recipe for vegetable lasagna was served at my sister-in-laws house the other evening. It was so delicious I just had to have the recipe and share it with you. For you meat-eaters out there, just layer some cooked ground beef or some sausage in between the spinach-cheese mixture and the noodles.


Veggie and Pasta Delight


8 - 10 Lasagna noodles, cooked and drained
1 Tbsp. olive oil
1 small onion, diced
4 garlic cloves, minced
2 10-oz. packages frozen spinach, thawed and drained
1 cup grated carrots
2 cups cottage cheese
1 cup mozzarella cheese, shredded
1 cup Swiss cheese, shredded
1/2 cup Parmesan cheese, grated
Salt and pepper to taste


Heat oil in a skillet and saute onion and garlic until lightly brown and tender.
Add spinach and carrots and desired amount of salt and pepper and continue cooking for several minutes.
Combine cottage cheese, mozzarella cheese and Swiss cheese. Mix well. Add spinach mixture to the cheese. Again, mix well.
Place 1/3 of this spinach-cheese mixture at the bottom of a 13 x 9-inch-baking dish that has been sprayed with non-stick spray.
Place 4 - 5 noodles on top of the spinach-cheese mixture,then 1/3 more of spinach-cheese mixture and 4 - 5 more noodles.
Place the remaining spinach-cheese mixture on top and sprinkle with Parmesan cheese.
Bake for 35 - 45 minute at 350 degrees.Let stand for 15 - 20 minutes before cutting and serving.
Serve with toasted garlic bread and a tossed salad.

From lasagna to Recipe-Idea