Salsa compliments a variety of dishes.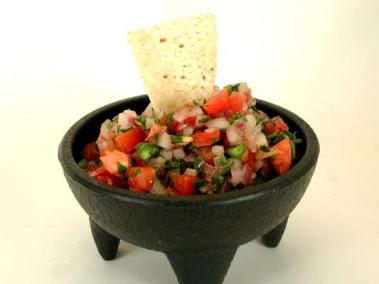 Try this the next time you bake or broil some fish.

Mango and avocado salsa

1 mango, peeled, seeded and diced
1 small red onion, finely chopped
1 avocado, peeled, pitted and diced
3 Roma or plum tomatoes, peeled, seeded and chopped
zest of 1 lime
1 jalapeno pepper, seeded and finely chopped
1 Tb fresh minced ginger root
1/4 cup chopped fresh cilantro
1 tsp salt


Combine all ingredients in a glass bowl. Stir to blend flavors.
.

Fresh Tomato


3 medium tomatoes, seeded, chopped,
(about 3 cups)
1/2 c sliced green onions
1/2 c chopped green bell pepper
2T To 3T lime juice
2T snipped fresh cilantro
1T finely chopped jalepeno
1 tsp finely chopped garlic (about 3 cloves)
1/2 tsp Salt


Mix all ingredients.